KJV Dictionary
This online dictionary of King James Version words contains over 11,000 definitions. This dictionary is derived from Noah Webster's American Dictionary of the English Language, a dictionary published in 1828 which frequently uses Bible verses in the definitions.
This is an abridgment of the Webster's 1828. It was created by comparing each word from the Webster's 1828 to a list of words from the King James Bible. If a word from the Webster's 1828 appeared in the KJV, its definition was included in this online text. Additionally, each word form from the dictionary was included to be as complete as possible, but without including all 60,000+ definitions from the unabridged dictionary.
Please use the index above to find a word.
The unabridged Webster's 1828 dictionary is included in the Deluxe edition of SwordSearcher Bible Software. The SwordSearcher edition of the dictionary is complete (over 60,000 definitions) and much quicker to access and use than this online version.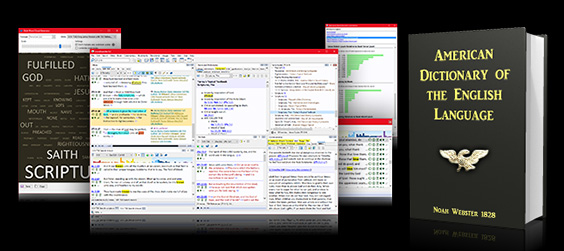 A word of caution: Webster's dictionary is an excellent resource, but it is not infallible. The only way to discover the spiritual meanings of Scriptural words is diligent personal study and reading with illumination from the Holy Spirit.