Psalms chapter 14 King James Version
1 To the chief Musician, A Psalm of David. The fool hath said in his heart, There is no God. They are corrupt, they have done abominable works, there is none that doeth good.
2 The LORD looked down from heaven upon the children of men, to see if there were any that did understand, and seek God.
3 They are all gone aside, they are all together become filthy: there is none that doeth good, no, not one.
4 Have all the workers of iniquity no knowledge? who eat up my people as they eat bread, and call not upon the LORD.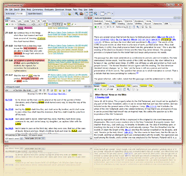 For a complete Scripture study system, try SwordSearcher Bible Software. Once you experience the swiftness and ease-of-use SwordSearcher gives you right on your own computer, combined with the most powerful search features available, you will never want to use the web to do online study again. Includes tens of thousands of topical, encyclopedic, dictionary, and commentary entries all linked to verses, fully searchable by topic or verse reference.
Also try Daily Bible and Prayer to design your own Bible reading programs and track your prayer list.
5 There were they in great fear: for God is in the generation of the righteous.
6 Ye have shamed the counsel of the poor, because the LORD is his refuge.
7 Oh that the salvation of Israel were come out of Zion! when the LORD bringeth back the captivity of his people, Jacob shall rejoice, and Israel shall be glad.