Psalms chapter 15 King James Version
1
A Psalm of David.
LORD, who shall abide in thy tabernacle? who shall dwell in thy holy hill?
2 He that walketh uprightly, and worketh righteousness, and speaketh the truth in his heart.
3 He that backbiteth not with his tongue, nor doeth evil to his neighbour, nor taketh up a reproach against his neighbour.
4 In whose eyes a vile person is contemned; but he honoureth them that fear the LORD. He that sweareth to his own hurt, and changeth not.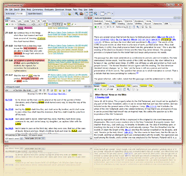 For a complete Scripture study system, try SwordSearcher Bible Software. Once you experience the swiftness and ease-of-use SwordSearcher gives you right on your own computer, combined with the most powerful search features available, you will never want to use the web to do online study again. Includes tens of thousands of topical, encyclopedic, dictionary, and commentary entries all linked to verses, fully searchable by topic or verse reference.
Also try Daily Bible and Prayer to design your own Bible reading programs and track your prayer list.
5 He that putteth not out his money to usury, nor taketh reward against the innocent. He that doeth these things shall never be moved.