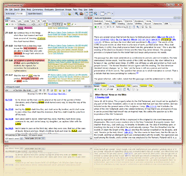 For a complete Scripture study system, try SwordSearcher Bible Software, which includes the unabridged version of this dictionary. Once you experience the swiftness and ease-of-use SwordSearcher gives you right on your own computer, combined with the most powerful search features available, you will never want to use the web to do online study again. Includes tens of thousands of topical, encyclopedic, and commentary entries all linked to verses, fully searchable by topic or verse reference.
Also try Daily Bible and Prayer to design your own Bible reading programs and track your prayer list.
KJV Dictionary Definition: reprobate
reprobate
REPROBATE, a. L. reprobatus, reprobo, to disallow; re and probo, to prove.
1. Not enduring proof or trial; not of standard purity or fineness; disallowed; rejected.
Reprobate silver shall men call them, because the Lord hath rejected them. Jer. 6.
2. Abandoned in sin; lost to virtue or grace.
They profess that they know God, but in works deny him, being abominable and disobedient, and to every good work reprobate. Titus 1.
3. Abandoned to error, or in apostasy. 2Tim. 3.
reprobated
REP'ROBATED, pp. Disapproved with abhorrence; rejected; abandoned to wickedness or to destruction.
reprobateness
REP'ROBATENESS, n. The state of being reprobate.
reprobating
REP'ROBATING, ppr. Disapproving with extreme dislike; rejecting; abandoning to wickedness or to destruction.
reprobation
REPROBA'TION, n. L. reprobatio.
1. The act of disallowing with detestation, or of expressing extreme dislike.
2. The act of abandoning or state of being abandoned to eternal destruction.
When a sinner is so hardened as to feel no remorse or misgiving of conscience, it is considered as a sign of reprobation.
3. A condemnatory sentence; rejection.
Set a brand of reprobation on clipped poetry and false coin.