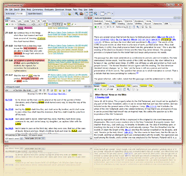 For a complete Scripture study system, try SwordSearcher Bible Software, which includes the unabridged version of this dictionary. Once you experience the swiftness and ease-of-use SwordSearcher gives you right on your own computer, combined with the most powerful search features available, you will never want to use the web to do online study again. Includes tens of thousands of topical, encyclopedic, and commentary entries all linked to verses, fully searchable by topic or verse reference.
Also try Daily Bible and Prayer to design your own Bible reading programs and track your prayer list.
KJV Dictionary Definition: presumptuous
presumptuous
PRESUMP'TUOUS, a.
1. Bold and confident to excess; adventuring without reasonable ground of success; hazarding safety on too slight grounds; rash; applied to persons; as a presumptuous commander.
There is a class of presumptuous men whom age has not made cautious, nor adversity wise.
2. Founded on presumption; proceeding from excess of confidence; applied to things; as presumptuous hope.
3. Arrogant; insolent; as a presumptuous priest.
Presumptuous pride.
4. Unduly confident; irreverent with respect to sacred things.
5. Willful; done with bold design, rash confidence or in violation of known duty; as a presumptuous sin.
presumptuously
PRESUMP'TUOUSLY, adv. With rash confidence.
1. Arrogantly; insolently.
2. Willfully; in bold defiance of conscience or violation of known duty; as, to sin presumptuously. Num.15.
3. With groundless and vain confidence in the divine favor.
presumptuousness
PRESUMP'TUOUSNESS, n. The quality of being presumptuous or rashly confident; groundless confidence; arrogance; irreverent boldness or forwardness.