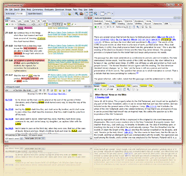 For a complete Scripture study system, try SwordSearcher Bible Software, which includes the unabridged version of this dictionary. Once you experience the swiftness and ease-of-use SwordSearcher gives you right on your own computer, combined with the most powerful search features available, you will never want to use the web to do online study again. Includes tens of thousands of topical, encyclopedic, and commentary entries all linked to verses, fully searchable by topic or verse reference.
Also try Daily Bible and Prayer to design your own Bible reading programs and track your prayer list.
KJV Dictionary Definition: heresy
heresy
HER'ESY, n. Gr. to take, to hold; L. haeresis.
1. A fundamental error in religion, or an error of opinion respecting some fundamental doctrine of religion. But in countries where there is an established church, an opinion is deemed heresy, when it differs from that of the church. The Scriptures being the standard of faith, any opinion that is repugnant to its doctrines, is heresy; but as men differ in the interpretation of Scripture, an opinion deemed heretical by one body of christians,may be deemed orthodox by another. In Scripture and primitive usage,heresy meant merely sect, party, or the doctrines of a sect, as we now use denomination or persuasion, implying no reproach.
2. Heresy, in law, is an offense against christianity, consisting in a denial of some of its essential doctrines, publicly avowed and obstinately maintained.
3. An untenable or unsound opinion or doctrine in politics.