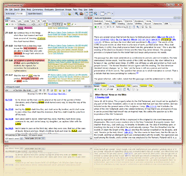 For a complete Scripture study system, try SwordSearcher Bible Software, which includes the unabridged version of this dictionary. Once you experience the swiftness and ease-of-use SwordSearcher gives you right on your own computer, combined with the most powerful search features available, you will never want to use the web to do online study again. Includes tens of thousands of topical, encyclopedic, and commentary entries all linked to verses, fully searchable by topic or verse reference.
Also try Daily Bible and Prayer to design your own Bible reading programs and track your prayer list.
KJV Dictionary Definition: expel
expel
EXPEL', v.t. L. expello; ex and pello, to drive; from the L. participle.
1. To drive or force out from any inclosed place; as, to expel wind from the stomach, or air from a bellows. The word is applicable to any force, physical or moral.
2. To drive out; to force to leave; as, to expel the inhabitants of a country; to expel wild beasts from a forest.
3. To eject; to throw out.
4. To banish; to exile.
5. To reject; to refuse. Little used.
And would you not poor fellowship expel?
6. To exclude; to keep out or off.
7. In college government, to command to leave; to dissolve the connection of a student; to interdict him from further connection.
expellable
EXPEL'LABLE, a. That may be expelled or driven out.
Acid expellable by heat.
expelled
EXPEL'LED, ppr. Driven out or away; forced to leave; banished; exiled; excluded.
expeller
EXPEL'LER, n. He or that which drives out or away.
expelling
EXPEL'LING, ppr. Driving out; forcing away; compelling to quit or depart; banishing; excluding.