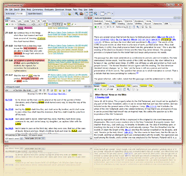 For a complete Scripture study system, try SwordSearcher Bible Software, which includes the unabridged version of this dictionary. Once you experience the swiftness and ease-of-use SwordSearcher gives you right on your own computer, combined with the most powerful search features available, you will never want to use the web to do online study again. Includes tens of thousands of topical, encyclopedic, and commentary entries all linked to verses, fully searchable by topic or verse reference.
Also try Daily Bible and Prayer to design your own Bible reading programs and track your prayer list.
KJV Dictionary Definition: embalm
embalm
EMB'ALM, v.t. emb'am.
1. To open a dead body, take out the intestines,and fill their place with odoriferous and desiccative spices and drugs, to prevent its putrefaction.
Joseph commanded his servants, the physicians, to embalm his father; and the physicians embalmed Israel. Gen.1.
2. To fill with sweet scent.
3. To preserve,with care and affection, from loss or decay.
The memory of my beloved daughter is embalmed in my heart.
Virtue alone, with lasting grace,
Embalms the beauties of the face.
embalmed
EMB`ALMED, pp. Filled with aromatic plants for preservation; preserved from loss or destruction.
embalmer
EMB`ALMER, n. One who embalms bodies for preservation.
embalming
EMB`ALMING, ppr. Filling a dead body with spices for preservation; preserving with care from loss, decay or destruction.