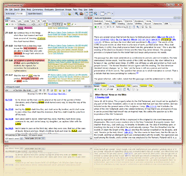 For a complete Scripture study system, try SwordSearcher Bible Software, which includes the unabridged version of this dictionary. Once you experience the swiftness and ease-of-use SwordSearcher gives you right on your own computer, combined with the most powerful search features available, you will never want to use the web to do online study again. Includes tens of thousands of topical, encyclopedic, and commentary entries all linked to verses, fully searchable by topic or verse reference.
Also try Daily Bible and Prayer to design your own Bible reading programs and track your prayer list.
KJV Dictionary Definition: devil
devil
DEVIL, n. Devl. L., to calumniate.
1. In the Christian theology, an evil spirit or being; a fallen angel, expelled from heaven for rebellion against God; the chief of the apostate angels; the implacable enemy and tempter of the human race. In the New Testament, the word is frequently and erroneously used for demon.
2. A very wicked person, and in ludicrous language, an great evil. In profane language, it is an expletive expressing wonder, vexation, &c.
3. An idol, or false god. Leviticus 17. 2 Chronicles 11.
deviling
DEVILING, n. A young devil. Not in use.
devilism
DEVILISM, n. The state of devils. Not used.
devilize
DEVILIZE, v.t. To place among devils. Not used.