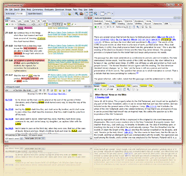 For a complete Scripture study system, try SwordSearcher Bible Software, which includes the unabridged version of this dictionary. Once you experience the swiftness and ease-of-use SwordSearcher gives you right on your own computer, combined with the most powerful search features available, you will never want to use the web to do online study again. Includes tens of thousands of topical, encyclopedic, and commentary entries all linked to verses, fully searchable by topic or verse reference.
Also try Daily Bible and Prayer to design your own Bible reading programs and track your prayer list.
KJV Dictionary Definition: despair
despair
DESPAIR, n.
1. Hopelessness; a hopeless state; a destitution of hope or expectation.
We are perplexed, but not in despair. 2 Cor. 4.
All safety in despair of safety placed.
2. That which causes despair; that of which there is no hope.
The mere despair of surgery, he cures.
3. Loss of hope in the mercy of God.
DESPAIR, v.i. L. To hope. To be without hope; to hive up all hope or expectation; followed by of.
We despaired even of life. 2 Cor. 1.
Never despair of Gods blessings here, or of his reward hereafter.
despairer
DESPAIRER, n. One without hope.
despairful
DESPAIRFUL, a. Hopeless.
despairing
DESPAIRING, ppr. Giving up all hope or expectation.
despairingly
DESPAIRINGLY, adv. In a despairing manner; in a manner indicating hopelessness; as, he speaks despairingly of the sick mans recovery.