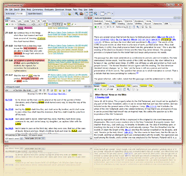 For a complete Scripture study system, try SwordSearcher Bible Software, which includes the unabridged version of this dictionary. Once you experience the swiftness and ease-of-use SwordSearcher gives you right on your own computer, combined with the most powerful search features available, you will never want to use the web to do online study again. Includes tens of thousands of topical, encyclopedic, and commentary entries all linked to verses, fully searchable by topic or verse reference.
Also try Daily Bible and Prayer to design your own Bible reading programs and track your prayer list.
KJV Dictionary Definition: courage
courage
COURAGE, n. L., the heart. Bravery; intrepidity; that quality of mind which enables men to encounter danger and difficulties with firmness, or without fear or depression of spirits; valor; boldness; resolution. It is a constituent part of fortitude; but fortitude implies patience to bear continued suffering.
Courage that grows from constitution, often forsakes a man when he has occasion for it; courage which arises from a sense of duty, acts in a uniform manner.
Be strong and of good courage. Deuteronomy 31.
courageous
COURAGEOUS, a. Brave; bold; daring; intrepid; hardy to encounter difficulties and dangers; adventurous; enterprising.
Be thou strong and courageous. Joshua 1.
courageously
COURAGEOUSLY, adv. With courage; bravely; boldly; stoutly.
courageousness
COURAGEOUSNESS, n. Courage; boldness; bravery; intrepidity; spirit; valor.