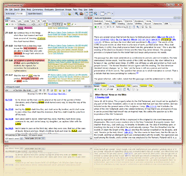 For a complete Scripture study system, try SwordSearcher Bible Software, which includes the unabridged version of this dictionary. Once you experience the swiftness and ease-of-use SwordSearcher gives you right on your own computer, combined with the most powerful search features available, you will never want to use the web to do online study again. Includes tens of thousands of topical, encyclopedic, and commentary entries all linked to verses, fully searchable by topic or verse reference.
Also try Daily Bible and Prayer to design your own Bible reading programs and track your prayer list.
KJV Dictionary Definition: consecrate
consecrate
CONSECRATE, v.t. L., to consecrate, sacred. See Sacred.
1. To make or declare to be sacred, by certain ceremonies or rites; to appropriate to sacred uses; to set apart, dedicate, or devote, to the service and worship of God; as, to consecrate a church.
Thou shalt consecrate Aaron and his sons. Exodus 29.
All the silver, and gold, and vessels of brass and iron, are consecrated to the Lord. Joshua 6.
2. To canonize; to exalt to the rank of a saint; to enroll among the gods, as a Roman emperor.
3. To set apart and bless the elements in the eucharist.
4. To render venerable; to make respected; as, rules or principles consecrated by time.
CONSECRATE, a. Sacred; consecrated; devoted; dedicated.
They were assembled in that consecrate place.
This word is now seldom used, unless in poetry.
consecrated
CONSECRATED, pp. Made sacred by ceremonies or solemn rites; separated from a common to a sacred use; devoted or dedicated to the service and worship of God; made venerable.
consecrating
CONSECRATING, ppr. Making sacred; appropriating to a sacred use; dedicating to the service of God; devoting; rendering venerable.
consecration
CONSECRATION, n.
1. The act or ceremony of separating form a common to a sacred use, or of devoting and dedicating a person or thing to the service and worship of God, by certain rites or solemnities. Consecration does not make a person or thing really holy, but declares it to be sacred, that is, devoted to God or to divine service; as the consecration of the priests among the Israelites; the consecration of the vessels used in the temple; the consecration of a bishop.
2. Canonization; the act of translating into heaven, and enrolling or numbering among the saints or gods; the ceremony of the apotheosis of an emperor.
3. The benediction of the elements in the eucharist; the act of setting apart and blessing the elements in the communion.
consecrator
CONSECRATOR, n. One who consecrates; one who performs the rites by which a person or thing is devoted or dedicated to sacred purposes.