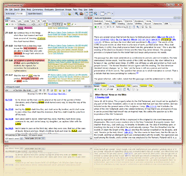 For a complete Scripture study system, try SwordSearcher Bible Software, which includes the unabridged version of this dictionary. Once you experience the swiftness and ease-of-use SwordSearcher gives you right on your own computer, combined with the most powerful search features available, you will never want to use the web to do online study again. Includes tens of thousands of topical, encyclopedic, and commentary entries all linked to verses, fully searchable by topic or verse reference.
Also try Daily Bible and Prayer to design your own Bible reading programs and track your prayer list.
KJV Dictionary Definition: chariot
chariot
CHARIOT,n.
1. A half coach; a carriage with four wheels and one seat behind, used for convenience and pleasure.
2. A car or vehicle used formerly in war, drawn by two or more horses, and conveying two men each. These vehicles were sometimes armed with hooks or sythes.
CHARIOT, v.t. To convey in a chariot.
charioted
CHARIOTED, pp. Borne in a chariot.
charioteer
CHARIOTEER, n. The person who drives or conducts a chariot. It is used in speaking of military chariots and those in the ancient games, but not of modern drivers.