Psalms chapter 93 King James Version
1 The LORD reigneth, he is clothed with majesty; the LORD is clothed with strength, wherewith he hath girded himself: the world also is stablished, that it cannot be moved.
2 Thy throne is established of old: thou art from everlasting.
3 The floods have lifted up, O LORD, the floods have lifted up their voice; the floods lift up their waves.
4 The LORD on high is mightier than the noise of many waters, yea, than the mighty waves of the sea.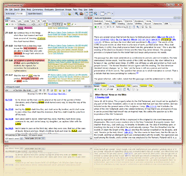 For a complete Scripture study system, try SwordSearcher Bible Software. Once you experience the swiftness and ease-of-use SwordSearcher gives you right on your own computer, combined with the most powerful search features available, you will never want to use the web to do online study again. Includes tens of thousands of topical, encyclopedic, dictionary, and commentary entries all linked to verses, fully searchable by topic or verse reference.
Also try Daily Bible and Prayer to design your own Bible reading programs and track your prayer list.
5 Thy testimonies are very sure: holiness becometh thine house, O LORD, for ever.