Psalms chapter 148 King James Version
1 Praise ye the LORD. Praise ye the LORD from the heavens: praise him in the heights.
2 Praise ye him, all his angels: praise ye him, all his hosts.
3 Praise ye him, sun and moon: praise him, all ye stars of light.
4 Praise him, ye heavens of heavens, and ye waters that be above the heavens.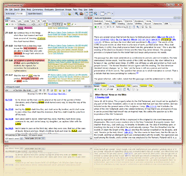 For a complete Scripture study system, try SwordSearcher Bible Software. Once you experience the swiftness and ease-of-use SwordSearcher gives you right on your own computer, combined with the most powerful search features available, you will never want to use the web to do online study again. Includes tens of thousands of topical, encyclopedic, dictionary, and commentary entries all linked to verses, fully searchable by topic or verse reference.
Also try Daily Bible and Prayer to design your own Bible reading programs and track your prayer list.
5 Let them praise the name of the LORD: for he commanded, and they were created.
6 He hath also stablished them for ever and ever: he hath made a decree which shall not pass.
7 Praise the LORD from the earth, ye dragons, and all deeps:
8 Fire, and hail; snow, and vapour; stormy wind fulfilling his word:
9 Mountains, and all hills; fruitful trees, and all cedars:
10 Beasts, and all cattle; creeping things, and flying fowl:
11 Kings of the earth, and all people; princes, and all judges of the earth:
12 Both young men, and maidens; old men, and children:
13 Let them praise the name of the LORD: for his name alone is excellent; his glory is above the earth and heaven.
14 He also exalteth the horn of his people, the praise of all his saints; even of the children of Israel, a people near unto him. Praise ye the LORD.