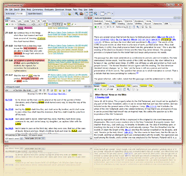 For a complete Scripture study system, try SwordSearcher Bible Software, which includes the unabridged version of this dictionary. Once you experience the swiftness and ease-of-use SwordSearcher gives you right on your own computer, combined with the most powerful search features available, you will never want to use the web to do online study again. Includes tens of thousands of topical, encyclopedic, and commentary entries all linked to verses, fully searchable by topic or verse reference.
Also try Daily Bible and Prayer to design your own Bible reading programs and track your prayer list.
KJV Dictionary Definition: tribute
tribute
TRIB'UTE, n. L. tributum, from tribuo, to give, bestow or divide.
1. An annual or stated sum of money or other valuable thing, paid by one prince or nation to another, either as an acknowledgment of submission, or as the price of peace and protection, or by virtue of some treaty. The Romans made all their conquered countries pay tribute, as do the Turks at this day; and in some countries the tribute is paid in children.
2. A personal contribution; as a tribute of respect.
3. Something given or contributed.