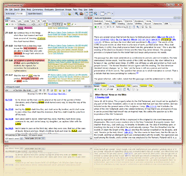 For a complete Scripture study system, try SwordSearcher Bible Software, which includes the unabridged version of this dictionary. Once you experience the swiftness and ease-of-use SwordSearcher gives you right on your own computer, combined with the most powerful search features available, you will never want to use the web to do online study again. Includes tens of thousands of topical, encyclopedic, and commentary entries all linked to verses, fully searchable by topic or verse reference.
Also try Daily Bible and Prayer to design your own Bible reading programs and track your prayer list.
KJV Dictionary Definition: trench
trench
TRENCH, v.t.
1. To cut or dig, as a ditch, a channel for water, or a long hollow in the earth. We trench land for draining. This is the appropriate sense of the word.
2. To fortify by cutting a ditch and raising a rampart or breast-work of earth thrown out of the ditch. In this sense, entrench is more generally used.
3. To furrow; to form with deep furrows by plowing.
4. To cut a long gash. Not in use.
TRENCH, v.i. To encroach. See Entrench.
TRENCH, n. A long narrow cut in the earth; a ditch; as a trench for draining land.
1. In fortification, a deep ditch cut for defense, or to interrupt the approach of an enemy. The wall or breast-work formed by the earth thrown out of the ditch, is also called a trench, as also any raised work formed with bavins, gabions, wool-packs or other solid materials, Hence, the phrases, to mount the trenches, to guard the trenches, to clear the trenches, &c.open the trenches, to begin to dig, or to form the lines of approach.
trenched
TRENCH'ED, pp. Cut into long hollows or ditches; furrowed deep.
trenching
TRENCH'ING, ppr. Cutting into trenches; digging; ditching.