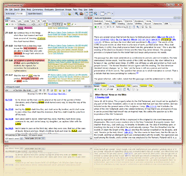 For a complete Scripture study system, try SwordSearcher Bible Software, which includes the unabridged version of this dictionary. Once you experience the swiftness and ease-of-use SwordSearcher gives you right on your own computer, combined with the most powerful search features available, you will never want to use the web to do online study again. Includes tens of thousands of topical, encyclopedic, and commentary entries all linked to verses, fully searchable by topic or verse reference.
Also try Daily Bible and Prayer to design your own Bible reading programs and track your prayer list.
KJV Dictionary Definition: temptation
temptation
TEMPTA'TION, n. The act of tempting; enticement to evil by arguments, by flattery, or by the offer of some real or apparent good.
When the devil had ended all the temptation, he departed from him for a season. Luke 4.
1. Solicitation of the passions; enticements to evil proceeding from the prospect of pleasure or advantage.
2. The state of being tempted or enticed to evil. When by human weakness you are led into temptation, resort to prayer for relief.
3. Trial.
Lead us not into temptation.
4. That which is presented to the mind as an inducement to evil.
Dare to be great without a guilty crown,
View it, and lay the bright temptation down.
5. In colloquial language, an allurement to any thing indifferent, or even good.