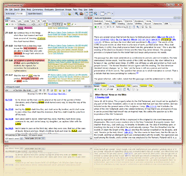 For a complete Scripture study system, try SwordSearcher Bible Software, which includes the unabridged version of this dictionary. Once you experience the swiftness and ease-of-use SwordSearcher gives you right on your own computer, combined with the most powerful search features available, you will never want to use the web to do online study again. Includes tens of thousands of topical, encyclopedic, and commentary entries all linked to verses, fully searchable by topic or verse reference.
Also try Daily Bible and Prayer to design your own Bible reading programs and track your prayer list.
KJV Dictionary Definition: swerve
swerve
SWERVE, v.i. swerv.
1. To wander; to rove.
The swerving vines on the tall elms prevail.
2. To wander from any line prescribed, or from a rule of duty; to depart from what is established by law, duty or custom; to deviate.
I swerve not from thy commandments.
They swerve from the strict letter of the law.
Many who, through the contagion of evil example, swerve exceedingly from the rules of their holy religion--
3. To bend; to incline.
4. To climb or move forward by winding or turning.
The tree was high,
Yet nimbly up from bough to bough I swerv'd.
This use of the word coincides with that of swarm, which see.
swerving
SWERV'ING, ppr. Roving; wandering; deviating from any rule or standard; inclining; climbing or moving by winding and turning.
SWERV'ING, n. The act of wandering; deviation from any rule, law, duty or standard.