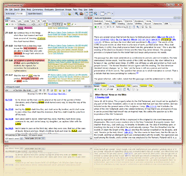 For a complete Scripture study system, try SwordSearcher Bible Software, which includes the unabridged version of this dictionary. Once you experience the swiftness and ease-of-use SwordSearcher gives you right on your own computer, combined with the most powerful search features available, you will never want to use the web to do online study again. Includes tens of thousands of topical, encyclopedic, and commentary entries all linked to verses, fully searchable by topic or verse reference.
Also try Daily Bible and Prayer to design your own Bible reading programs and track your prayer list.
KJV Dictionary Definition: sunder
sunder
SUN'DER, v.t.
1. To part; to separate; to divide; to disunite in almost any manner, either by rending, cutting, or breaking; as, to sunder a rope or cord; to sunder a limb or joint; to sunder friends, or the ties of friendship. The executioner sunders the head from the body at a stroke. A mountain may be sundered by an earthquake.
Bring me lightning, give me thunder;
--Jove may kill, but ne'er shall sunder.
2. To expose to the sun. Provincial in England.
SUN'DER, n. In sunder, in tow.
He cutteth the spear in sunder. Ps.46.
sundered
SUN'DERED, pp. Separated; divided; parted.
sundering
SUN'DERING, ppr. Parting; separating.