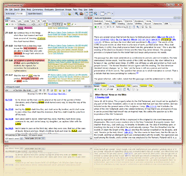 For a complete Scripture study system, try SwordSearcher Bible Software, which includes the unabridged version of this dictionary. Once you experience the swiftness and ease-of-use SwordSearcher gives you right on your own computer, combined with the most powerful search features available, you will never want to use the web to do online study again. Includes tens of thousands of topical, encyclopedic, and commentary entries all linked to verses, fully searchable by topic or verse reference.
Also try Daily Bible and Prayer to design your own Bible reading programs and track your prayer list.
KJV Dictionary Definition: sorrow
sorrow
SOR'ROW, n. The uneasiness or pain of mind which is produced by the loss of any good. or of frustrated hopes of good, or expected loss of happiness; to grieve; to be sad. I rejoice not that ye were made sorry, but the ye sorrowed to repentance. I Cor. 7. Sorrowing most of all for the words which be spoke, that they should see his face no more. Acts 20.
sorrowed
SOR'ROWED, pp. Accompanied with sorrow. Not in use.
sorrowful
SOR'ROWFUL, A.
1. Sad; grieving for the loss of some good, or on account of some expected evil.
2. Deeply serious; depressed; dejected. I Sam. 1.
3. Producing sorrow; exciting grief; mournful; as a sorrowful accident.
4. Expressing grief; accompanied with grief; as sorrowful meat. Job 6.
sorrowfulness
SOR'ROWFULNESS, n. State of being sorrowful; grief.
sorrowing
SOR'ROWING, ppr. Feeling sorrow, grief or regret.
SOR'ROWING, n. Expression of sorrow.