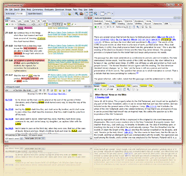 For a complete Scripture study system, try SwordSearcher Bible Software, which includes the unabridged version of this dictionary. Once you experience the swiftness and ease-of-use SwordSearcher gives you right on your own computer, combined with the most powerful search features available, you will never want to use the web to do online study again. Includes tens of thousands of topical, encyclopedic, and commentary entries all linked to verses, fully searchable by topic or verse reference.
Also try Daily Bible and Prayer to design your own Bible reading programs and track your prayer list.
KJV Dictionary Definition: rod
rod
ROD, n. L. radius, ray, radix, root.
1. The shoot or long twig of any woody plant; a branch, or the stem of a shrub; as a rod of hazle, of birch, of oak or hickory. Hence,
2. An instrument of punishment or correction; chastisement.
I will chasten him with the rod of men. 2Sam. 7. Prov. 10.
3. Discipline; ecclesiastical censures. 1Cor. 4.
4. A king of scepter.
The rod and bird of peace.
5. A pole for angling; something long and slender.
6. An instrument for measuring; but more generally, a measure of length containing five yards, or sixteen feet and a half; a pole; a perch. In many parts of the United States, rod is universally used for pole or perch.
7. In Scripture, a staff or wand. 1Sam. 14.
8. Support.
Thy rod and thy staff, they comfort me. Ps. 23.
9. A shepherd's crook. Lev. 27.
10. An instrument for threshing. Is. 28.
11. Power; authority. Ps. 125.
12. A tribe or race. Ps. 74.
Rod of iron, the mighty power of Christ. Rev. 19. Ps. 2.