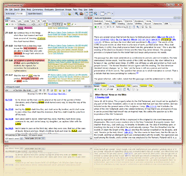 For a complete Scripture study system, try SwordSearcher Bible Software, which includes the unabridged version of this dictionary. Once you experience the swiftness and ease-of-use SwordSearcher gives you right on your own computer, combined with the most powerful search features available, you will never want to use the web to do online study again. Includes tens of thousands of topical, encyclopedic, and commentary entries all linked to verses, fully searchable by topic or verse reference.
Also try Daily Bible and Prayer to design your own Bible reading programs and track your prayer list.
KJV Dictionary Definition: prophet
prophet
PROPH'ET, n. L. propheta.
1. One that foretells future events; a predicter; a foreteller.
2. In Scripture, a person illuminated, inspired or instructed by God to announce future events; as Moses, Elijah, David, Isaiah, &c.
3. An interpreter; one that explains or communicates sentiments. Ex.7.
4. One who pretends to foretell; an imposter; as a false prophet. Acts 13.
of the prophets, among the Israelites, a school or college in which young men were educated and qualified for public teachers. These students were called sons of the prophets.
prophetical
PROPHET'ICAL, a. Containing prophecy; foretelling future events; as prophetic writings.
1. Unfolding future events; as prophetic dreams.
It has of before the thing foretold.
And fears are oft prophetic of th' event.
prophetically
PROPHET'ICALLY, adv. By way of prediction; in the manner of prophecy.
prophetize
PROPH'ETIZE, v.i. To give prediction. Not used