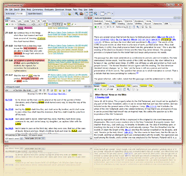 For a complete Scripture study system, try SwordSearcher Bible Software, which includes the unabridged version of this dictionary. Once you experience the swiftness and ease-of-use SwordSearcher gives you right on your own computer, combined with the most powerful search features available, you will never want to use the web to do online study again. Includes tens of thousands of topical, encyclopedic, and commentary entries all linked to verses, fully searchable by topic or verse reference.
Also try Daily Bible and Prayer to design your own Bible reading programs and track your prayer list.
KJV Dictionary Definition: pastor
pastor
P`ASTOR, n. L. from pasco, pastum, to feed.
1. A shepherd; one that has the care of flocks and herds.
2. A minister of the gospel who has the charge of a church and congregation, whose duty is to watch over the people of his charge, and instruct them in the sacred doctrines of the christian religion.
pastoral
P`ASTORAL, a. L. pastoralis. Pertaining to shepherds; as a pastoral life; pastoral manners.
1. Descriptive of the life of shepherds; as a pastoral poem.
2. Relating to the care of souls, or to the pastor of a church; as pastoral care or duties; a pastoral letter.
Piety is the life and soul of pastoral fidelity.
P`ASTORAL, n. A poem describing the life and manners of shepherds, or a poem in imitation of the action of a shepherd, and in which the speakers take upon themselves the character of shepherds; an idyl; a bucolic.
A pastoral is a poem in which any action or passion is represented by its effects on a country life.
pastorate
P`ASTORATE, n. The office, state or jurisdiction of a spiritual pastor.