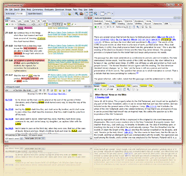 For a complete Scripture study system, try SwordSearcher Bible Software, which includes the unabridged version of this dictionary. Once you experience the swiftness and ease-of-use SwordSearcher gives you right on your own computer, combined with the most powerful search features available, you will never want to use the web to do online study again. Includes tens of thousands of topical, encyclopedic, and commentary entries all linked to verses, fully searchable by topic or verse reference.
Also try Daily Bible and Prayer to design your own Bible reading programs and track your prayer list.
KJV Dictionary Definition: manifest
manifest
MAN'IFEST, a. L. manifestus.
1. Plain, open, clearly visible to the eye or obvious to the understanding; apparent; not obscure or difficult to be seen or understood. From the testimony, the truth we conceive to be manifest.
Thus manifest to sight the god appeared.
That which may be known of God is manifest in them. Rom.1.
2. Detected; with of.
Calistho there stood manifest of shame. Unusual.
MAN'IFEST, n. An invoice of a cargo of goods, imported or laden for export, to be exhibited at the custom-house by the master of the vessel, or the owner or shipper.
MAN'IFEST