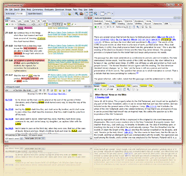 For a complete Scripture study system, try SwordSearcher Bible Software, which includes the unabridged version of this dictionary. Once you experience the swiftness and ease-of-use SwordSearcher gives you right on your own computer, combined with the most powerful search features available, you will never want to use the web to do online study again. Includes tens of thousands of topical, encyclopedic, and commentary entries all linked to verses, fully searchable by topic or verse reference.
Also try Daily Bible and Prayer to design your own Bible reading programs and track your prayer list.
KJV Dictionary Definition: imprison
imprison
IMPRIS'ON, v.t. impriz'n.
1. To put into a prison; to confine in a prison or jail, or to arrest and detain in custody in any place.
2. To confine; to shut up; to restrain from escape; to deprive of the liberty to move from place to place; as, to be imprisoned in a cell.
He imprisoned was in chains remediless.
Try to imprison the resistless winds.
imprisoned
IMPRIS'ONED, pp. Confined in a prison or jail; restrained from escape or from going at large.
imprisoning
IMPRIS'ONING, ppr. Shutting up in prison; confining in a place.
imprisonment
IMPRIS'ONMENT, n. The act of putting and confining in prison;
the act of arresting and detaining in custody.
1. Confinement in a place; restraint of liberty to go from place to place at pleasure. Appropriately, the confinement of a criminal or debtor within the walls of a prison, or in the custody of a sheriff, &c.
False imprisonment is any confinement of the person, or restraint of liberty, without legal or sufficient authority. The arrest or detention of the person by an officer without warrant, or by an illegal warrant, or by a legal warrant executed at an unlawful time, is false imprisonment.