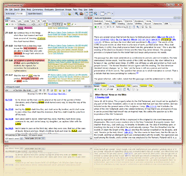 For a complete Scripture study system, try SwordSearcher Bible Software, which includes the unabridged version of this dictionary. Once you experience the swiftness and ease-of-use SwordSearcher gives you right on your own computer, combined with the most powerful search features available, you will never want to use the web to do online study again. Includes tens of thousands of topical, encyclopedic, and commentary entries all linked to verses, fully searchable by topic or verse reference.
Also try Daily Bible and Prayer to design your own Bible reading programs and track your prayer list.
KJV Dictionary Definition: gate
gate
GATE, n.
1. A large door which gives entrance into a walled city, a castle, a temple, palace or other large edifice. It differs from door chiefly in being larger. Gate signifies both the opening or passage, and the frame of boards, planks or timber which closes the passage.
2. A frame of timber which opens or closes a passage into any court, garden or other inclosed ground; also, the passage.
3. The frame which shuts or stops the passage of water through a dam into a flume.
4. An avenue; an opening; a way.
In scripture, figuratively, power, dominion. "Thy seed shall possess the gate of his enemies;" that is, towns and fortresses. Gen.22.
The gates of hell, are the power and dominion of the devil and his instruments. Matt.16.
The gates of death, are the brink of the grave. Ps.9.
gated
GA'TED, a. Having gates.