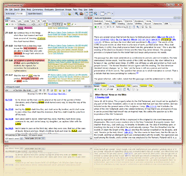 For a complete Scripture study system, try SwordSearcher Bible Software, which includes the unabridged version of this dictionary. Once you experience the swiftness and ease-of-use SwordSearcher gives you right on your own computer, combined with the most powerful search features available, you will never want to use the web to do online study again. Includes tens of thousands of topical, encyclopedic, and commentary entries all linked to verses, fully searchable by topic or verse reference.
Also try Daily Bible and Prayer to design your own Bible reading programs and track your prayer list.
KJV Dictionary Definition: gall
gall
GALL, n. Gr. probably from its color.
1. In the animal economy, the bile, a bitter, a yellowish green fluid, secreted in the glandular substance of the liver. It is glutinous or imperfectly fluid, like oil.
2. Any thing extremely bitter.
3. Rancor; malignity.
4. Anger; bitterness of mind.
galled
GALL'ED, pp. See Gall, the verb. Having the skin or surface worn or torn by wearing or rubbing; fretted; teased;injured; vexed.
galling
GALL'ING, ppr. See Gall, the verb.
1. Fretting the skin; excoriating.
2. Adapted to fret or chagrin; vexing.