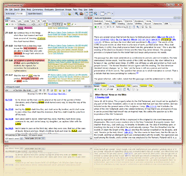 For a complete Scripture study system, try SwordSearcher Bible Software, which includes the unabridged version of this dictionary. Once you experience the swiftness and ease-of-use SwordSearcher gives you right on your own computer, combined with the most powerful search features available, you will never want to use the web to do online study again. Includes tens of thousands of topical, encyclopedic, and commentary entries all linked to verses, fully searchable by topic or verse reference.
Also try Daily Bible and Prayer to design your own Bible reading programs and track your prayer list.
KJV Dictionary Definition: foundation
foundation
FOUNDA'TION, n. L. fundatio, fundo.
1. The basis of an edifice; that part of a building which lies on the ground; usually a wall of stone which supports the edifice.
2. The act of fixing the basis.
3. The basis or ground work, or any thing; that on which any thing stands, and by which it is supported. A free government has its foundation in the choice and consent of the people to be governed. Christ is the foundation of the church.
Behold, I lay in Zion for a foundation, a stone - a precious cornerstone. Is. 28.
Other foundation can no man lay than that which is laid, which is Jesus Christ. 1Cor. 3.
4. Original; rise; as the foundation of the world.
5. Endowment; a donation or legacy appropriated to support an institution, and constituting a permanent fund, usually for a charitable purpose.
6. Establishment; settlement.