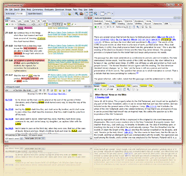 For a complete Scripture study system, try SwordSearcher Bible Software, which includes the unabridged version of this dictionary. Once you experience the swiftness and ease-of-use SwordSearcher gives you right on your own computer, combined with the most powerful search features available, you will never want to use the web to do online study again. Includes tens of thousands of topical, encyclopedic, and commentary entries all linked to verses, fully searchable by topic or verse reference.
Also try Daily Bible and Prayer to design your own Bible reading programs and track your prayer list.
KJV Dictionary Definition: flour
flour
FLOUR, n. originally flower; L. flos, floris, from floreo, to flourish.
The edible part of corn; meal. In the United States, the modern practice is to make a distinction between flour and meal; the word flour being more usually applied to the finer part of meal, separated from the bran, as wheat flour, rye flour. This is a just and useful distinction.
FLOUR, v.t.
1. To grind and bolt; to convert into flour. Wheat used formerly to be sent to market; but now great quantities of it are floured in the interior country.
2. To sprinkle with flour.
floured
FLOUR'ED, pp. Converted into flour; sprinkled with flour.
flouring
FLOUR'ING, ppr. Converting into flour; sprinkling with flour.