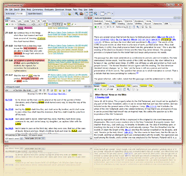 For a complete Scripture study system, try SwordSearcher Bible Software, which includes the unabridged version of this dictionary. Once you experience the swiftness and ease-of-use SwordSearcher gives you right on your own computer, combined with the most powerful search features available, you will never want to use the web to do online study again. Includes tens of thousands of topical, encyclopedic, and commentary entries all linked to verses, fully searchable by topic or verse reference.
Also try Daily Bible and Prayer to design your own Bible reading programs and track your prayer list.
KJV Dictionary Definition: embrace
embrace
EMBRA'CE, v.t.
1. To take, clasp or inclose in the arms; to press to the bosom, in token of affection.
Paul called to him the disciples and embraced them. Act.20.
2. To seize eagerly; to lay hold on; to receive or take with willingness that which is offered; as, to embrace the christian religion; to embrace the opportunity of doing a favor.
3. To comprehend; to include or take in; as, natural philosophy embraces many sciences.
4. To comprise; to inclose;to encompass; to contain; to encircle.
Low at his feet a spacious plain is placed,
Between the mountain and the stream embraced.
5. To receive; to admit.
6. To find; to take; to accept.
Fleance--must embrace the fate
Of that dark hour.
7. To have carnal intercourse with.
8. To put on.
9. To attempt to influence a jury corruptly.
EMBRA'CE, v.i. To join in an embrace.
EMBRA'CE, n. Inclosure or clasp with the arms; pressure to the bosom with the arms.
1. Reception of one thing into another.
2. Sexual intercourse; conjugal endearment.
embraced
EMBRA'CED, pp. Inclosed in the arms; clasped to the bosom; seized; laid hold on; received; comprehended; included; contained; accepted.
1. Influenced corruptly; biassed; as a juror.
embracement
EMBRA'CEMENT, n. A clasp in the arms; a hug; embrace.
1. Hostile hug; grapple. Little used.
2. Comprehension; state of being contained; inclosure. Little used.
3. Conjugal endearment; sexual commerce.
4. Willing acceptance. Little used.
embracer
EMBRA'CER, n. The person who embraces.
1. One who attempts to influence a jury corruptly.
embracing
EMBRA'CING, ppr. Clasping in the arms; pressing to the bosom; seizing and holding; comprehending; including; receiving; accepting; having conjugal intercourse.
1. Attempting to influence a jury corruptly.