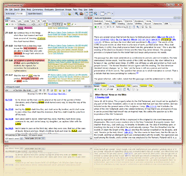 For a complete Scripture study system, try SwordSearcher Bible Software, which includes the unabridged version of this dictionary. Once you experience the swiftness and ease-of-use SwordSearcher gives you right on your own computer, combined with the most powerful search features available, you will never want to use the web to do online study again. Includes tens of thousands of topical, encyclopedic, and commentary entries all linked to verses, fully searchable by topic or verse reference.
Also try Daily Bible and Prayer to design your own Bible reading programs and track your prayer list.
KJV Dictionary Definition: dog
dog
DOG, n.
1. A species of quadrupeds, belonging to the genus Canis, of many varieties, as the mastiff, the hound, the spaniel, the shepherds dog, the terrier, the harrier, the bloodhound, &c.
2. It is used for male, when applied to several other animals; as a dog-fox; a dog-otter; dog-ape. It is prefixed to other words, denoting what is mean, degenerate or worthless; as dog-rose.
3. An andiron, so named from the figure of a dogs head on the top.
4. A term of reproach or contempt given to a man.
5. A constellation called Sirius or Canicula. See Dog-day.
6. An iron hook or bar with a sharp fang, used by seamen.
7. An iron used by sawyers to fasten a log of timber in a saw-pit.
8. A gay young man; a buck. Not in use.
To give or throw to the dogs, is to throw away, as useless.
To go to the dogs, is to be ruined.
DOG, v.t. To hunt; to follow insidiously or indefatigably; to follow close; to urge; to worry with importunity.
I have been pursued, dogged and way-laid.
dogged
DOGGED, pp.
1. Pursued closely; urged frequently and importunately.
2. a. Sullen; sour; morose; surly; severe.
dogging
DOGGING, ppr. from dog. Hunting; pursuing incessantly or importunately.