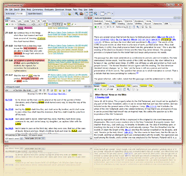 For a complete Scripture study system, try SwordSearcher Bible Software, which includes the unabridged version of this dictionary. Once you experience the swiftness and ease-of-use SwordSearcher gives you right on your own computer, combined with the most powerful search features available, you will never want to use the web to do online study again. Includes tens of thousands of topical, encyclopedic, and commentary entries all linked to verses, fully searchable by topic or verse reference.
Also try Daily Bible and Prayer to design your own Bible reading programs and track your prayer list.
KJV Dictionary Definition: disannul
disannul
DISANNUL, v.t. dis and annul. In this instance, the prefix dis is improperly used, and of no effect. But its use is well established. To annul; to make void; to deprive of authority or force; to nullify; to abolish; as, to disannul a law or an ordinance.
Wilt thou also disannul my judgment? Job 40. Galatians 3. 15.
disannulled
DISANNULLED, pp. Annulled; vacated; made void.
disannulling
DISANNULLING, ppr. Making void; depriving of authority or binding force.
disannulment
DISANNULMENT, n. The act of making void; as the disannulment of a law or decree.
Disannual differs from repeal, as the genus from the species. A repeal makes a law void by the same power that enacted it. Annulment or disannulment destroys its force and authority by repeal or by other means.