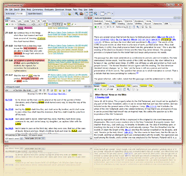 For a complete Scripture study system, try SwordSearcher Bible Software, which includes the unabridged version of this dictionary. Once you experience the swiftness and ease-of-use SwordSearcher gives you right on your own computer, combined with the most powerful search features available, you will never want to use the web to do online study again. Includes tens of thousands of topical, encyclopedic, and commentary entries all linked to verses, fully searchable by topic or verse reference.
Also try Daily Bible and Prayer to design your own Bible reading programs and track your prayer list.
KJV Dictionary Definition: damn
damn
DAMN, v.t.
1. To sentence to eternal torments in a future state; to punish in hell.
2. To condemn; to decide to be wrong or worthy of punishment; to censure; to reprobate.
He that doubteth is damned if he eat. Rom xiv
3. To condemn; to explode; to decide to be bad, mean, or displeasing, be hissing or any mark of disapprobation; as, to damn a play, or a mean author.
4. A word used in profaneness; a term of execration.
damned
DAM'NED, pp.
1. Sentenced to everlasting punishment in a future state; condemned.
2. a. Hateful; detestable; abominable;
A word chiefly used in profaneness by persons of vulgar manners.
damning
DAM'NING, ppr.
1. Dooming to endless punishment; condemning.
2. a. That condemns or exposes to damnation; as a damning sin.