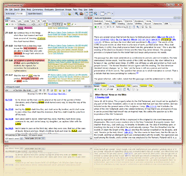 For a complete Scripture study system, try SwordSearcher Bible Software, which includes the unabridged version of this dictionary. Once you experience the swiftness and ease-of-use SwordSearcher gives you right on your own computer, combined with the most powerful search features available, you will never want to use the web to do online study again. Includes tens of thousands of topical, encyclopedic, and commentary entries all linked to verses, fully searchable by topic or verse reference.
Also try Daily Bible and Prayer to design your own Bible reading programs and track your prayer list.
KJV Dictionary Definition: covet
covet
COVET, v.t.
1. To desire or wish for, with eagerness; to desire earnestly to obtain or possess; in a good sense.
Covet earnestly the best gifts. 1 Corinthians 12.
2. To desire inordinately; to desire that which it is unlawful to obtain or possess; in a bad sense.
Thou shalt not covet thy neighbors house, wife or servant. Exodus 20.
COVET, v.i. To have an earnest desire. 1 Timothy 6.
covetable
COVETABLE, a. That may be coveted.
coveted
COVETED, pp. Earnestly desired; greatly wished or longed for.
coveting
COVETING, n. Inordinate desire.
covetous
COVETOUS, a.
1. Very desirous; eager to obtain; in a good sense; as covetous of wisdom, virtue or learning.
2. Inordinately desirous; excessively eager to obtain and possess; directed to money or goods, avaricious.
A bishop must not be covetous. 1 Timothy 3.
covetously
COVETOUSLY, adv. With a strong or inordinate desire to obtain and possess; eagerly; avariciously.
covetousness
COVETOUSNESS, n.
1. A strong or inordinate desire of obtaining and possessing some supposed good; usually in a bad sense, and applied to an inordinate desire of wealth or avarice.
Out of the heart proceedeth covetousness. Mark 7.
Mortify your members--and covetousness which is idolatry. Colossians 3.
2. Strong desire; eagerness.