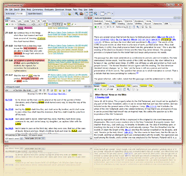 For a complete Scripture study system, try SwordSearcher Bible Software, which includes the unabridged version of this dictionary. Once you experience the swiftness and ease-of-use SwordSearcher gives you right on your own computer, combined with the most powerful search features available, you will never want to use the web to do online study again. Includes tens of thousands of topical, encyclopedic, and commentary entries all linked to verses, fully searchable by topic or verse reference.
Also try Daily Bible and Prayer to design your own Bible reading programs and track your prayer list.
KJV Dictionary Definition: contempt
contempt
CONTEMPT, n. L. See Contemn.
1. The act of despising; the act of viewing or considering and treating as mean, vile and worthless; disdain; hatred of what is mean or deemed vile. This word is one of the strongest expressions of a mean opinion which the language affords.
Nothing, says Longinus, can be great, the contempt of which is great.
2. The state of being despised; whence in a scriptural sense, shame, disgrace.
Some shall awake to everlasting contempt. Daniel 7.
3. In law, disobedience of the rules and orders of a court, which is a punishable offense.
contemptible
CONTEMPTIBLE, a. L.
1. Worthy of contempt; that deserves scorn, or disdain; despicable; mean; vile. Intemperance is a contemptible vice. No plant or animal is so contemptible as not to exhibit evidence of the wonderful power and wisdom of the Creator.
The pride that leads to dueling is a contemptible passion.
2. Apt to despise; contemptuous. Not legitimate.
contemptibleness
CONTEMPTIBLENESS, n. The state of being contemptible, or of being despised; despicableness; meanness; vileness.
contemptibly
CONTEMPTIBLY, adv. In a contemptible manner; meanly; in a manner deserving of contempt.