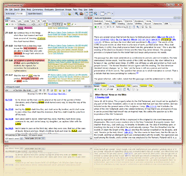 For a complete Scripture study system, try SwordSearcher Bible Software, which includes the unabridged version of this dictionary. Once you experience the swiftness and ease-of-use SwordSearcher gives you right on your own computer, combined with the most powerful search features available, you will never want to use the web to do online study again. Includes tens of thousands of topical, encyclopedic, and commentary entries all linked to verses, fully searchable by topic or verse reference.
Also try Daily Bible and Prayer to design your own Bible reading programs and track your prayer list.
KJV Dictionary Definition: chide
chide
CHIDE, v.t.
1. To scold at; to reprove; to utter words in anger, or by way of disapprobation; to rebuke; as, to chide one for his faults.
2. To blame; to reproach; as, to chide folly or negligence.
To chide from or chide away, is to drive away by scolding or reproof.
CHIDE, v.i.
1. To scold; to clamor; to find fault; to contend in words of anger; sometimes followed by with.
The people did chide with Moses. Ex. 17.
2. To quarrel.
3. To make a rough, clamorous, roaring noise; as the chiding flood.
CHIDE, n. Murmur; gentle noise.
chiding
CHIDING, ppr. Scolding; clamoring; rebuking; making a harsh or continued noise.
CHIDING, n. A scolding or clamoring; rebuke; reproof.
chidingly
CHIDINGLY, adv. In a scolding or reproving manner.