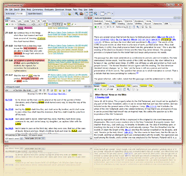 For a complete Scripture study system, try SwordSearcher Bible Software, which includes the unabridged version of this dictionary. Once you experience the swiftness and ease-of-use SwordSearcher gives you right on your own computer, combined with the most powerful search features available, you will never want to use the web to do online study again. Includes tens of thousands of topical, encyclopedic, and commentary entries all linked to verses, fully searchable by topic or verse reference.
Also try Daily Bible and Prayer to design your own Bible reading programs and track your prayer list.
KJV Dictionary Definition: brand
brand
BRAND, n.
1. A burning piece of wood; or a stick or piece of wood partly burnt, whether burning or after the fire is extinct.
2. A sword, either from brandishing, or from its glittering brightness; now obsolete,unless in poetry.
3. A thunder-bolt.
4. A mark made by burning with a hot iron, as upon a criminal, or upon a cask; a stigma; any note of infamy.
BRAND, v.t. To burn or impress a mark with a hot iron; as, to brand a criminal, by way of punishment; or to brand a cask or any thing else, for the purpose of fixing a mark upon it.
1. To fix a mark or character of infamy, in allusion to the branding of criminals; to stigmatize as infamous; as, to brand a vice with infamy.
branded
BRAND'ED, pp. Marked with a hot iron; stigmatized.
branding
BRAND'ING, ppr. Impressing a mark with a hot iron; fixing a stigma or mark of reproach.