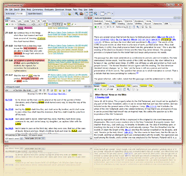 For a complete Scripture study system, try SwordSearcher Bible Software, which includes the unabridged version of this dictionary. Once you experience the swiftness and ease-of-use SwordSearcher gives you right on your own computer, combined with the most powerful search features available, you will never want to use the web to do online study again. Includes tens of thousands of topical, encyclopedic, and commentary entries all linked to verses, fully searchable by topic or verse reference.
Also try Daily Bible and Prayer to design your own Bible reading programs and track your prayer list.
KJV Dictionary Definition: book
book
BOOK, n. Like the Latin liber, book signifies primarily bark and beech, the tree being probably named from its bark.
A general name of every literary composition which is printed; but appropriately, a printed composition bound; a volume. The name is given also to any number of written sheets when bound or sewed together, and to a volume of blank paper, intended for any species of writing, as for memorandums, for accounts, or receipts.
1. A particular part of a literary composition; a division of a subject in the same volume.
2. A volume or collection of sheets in which accounts are kept; a register of debts and credits, receipts and expenditures, &c.
In books, in kind remembrance; in favor.
I was so much in his books, that at his decease he left me his lamp.
Without book, by memory; without reading;without notes; as, a sermon was delivered without book. This phrase is used also in the sense of without authority; as,a man asserts without book.
BOOK, v.t. To enter, write or register in a book.
booked
BOOK'ED, pp. Written in a book; registered.
bookful
BOOK'FUL, a. book and full. Full of notions gleaned from books; crowded with undigested learning.
booking
BOOK'ING, ppr. Registering in a book.