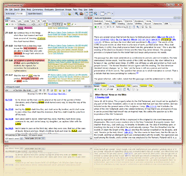 For a complete Scripture study system, try SwordSearcher Bible Software, which includes the unabridged version of this dictionary. Once you experience the swiftness and ease-of-use SwordSearcher gives you right on your own computer, combined with the most powerful search features available, you will never want to use the web to do online study again. Includes tens of thousands of topical, encyclopedic, and commentary entries all linked to verses, fully searchable by topic or verse reference.
Also try Daily Bible and Prayer to design your own Bible reading programs and track your prayer list.
KJV Dictionary Definition: bird
bird
BIRD, n. burd.
1. Properly, a chicken, the young of fowls, and hence a small fowl.
2. In modern use, any fowl or flying animal.
It is remarkable that a nation should lay aside the use of the proper generic name of flying animals, and substitute the name of the young of those animals, as the generic term. The fact is precisely what it would be to make lamb, the generic name of sheep,or colt, that of the equine genus.
BIRD, v.t. To catch birds.
Bird of paradise, a genus of birds, found in the Oriental isles, and in New Guinea; some of them remarkable beautiful. The beak is covered with a belt or collar of downy feathers at the base, and the feathers on the sides are very long. The longest species is two feet four inches in length. The head and back part of the neck are lemon-colored; the neck of the brightest emerald green, soft like velvet; the breast is black; the wings of a chestnut color. The back part of the body is covered with long straight narrow feathers, of a pale brown color, similar to the plumes of the ostrich. These are spread when the bird flies, for which reason he cannot keep long on the wing. From the rump proceed two long stiff shafts, feathered at the extremities.