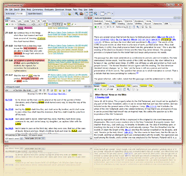 For a complete Scripture study system, try SwordSearcher Bible Software, which includes the unabridged version of this dictionary. Once you experience the swiftness and ease-of-use SwordSearcher gives you right on your own computer, combined with the most powerful search features available, you will never want to use the web to do online study again. Includes tens of thousands of topical, encyclopedic, and commentary entries all linked to verses, fully searchable by topic or verse reference.
Also try Daily Bible and Prayer to design your own Bible reading programs and track your prayer list.
KJV Dictionary Definition: beer
beer
BEER, n.
1. A spirituous liquor made from any farinaceous grain; but generally from barley, which is first malted and ground, and its fermentable substance extracted by hot water. This extract or infusion is evaporated by boiling in caldrons, and hops or some other plant of an agreeable bitterness added. The liquor is then suffered to ferment in vats. Beer is of different degrees of strength, and is denominated small beer, ale, porter, brown stout, &c.,according to its strength, or other peculiar qualities.
2. Beer is a name given in America to fermenting liquors made of various other materials; and when a decoction of the roots of plants forms a part of the composition, it is called spring-beer, from the season in which it is made.