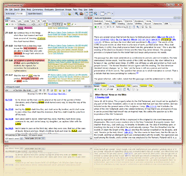 For a complete Scripture study system, try SwordSearcher Bible Software, which includes the unabridged version of this dictionary. Once you experience the swiftness and ease-of-use SwordSearcher gives you right on your own computer, combined with the most powerful search features available, you will never want to use the web to do online study again. Includes tens of thousands of topical, encyclopedic, and commentary entries all linked to verses, fully searchable by topic or verse reference.
Also try Daily Bible and Prayer to design your own Bible reading programs and track your prayer list.
KJV Dictionary Definition: backslide
backslide
BACKSLI'DE, v.i. back and slide. To fall off; to apostatize; to turn gradually from the faith and practice of christianity. Jer.iii. Hos.iv.
backslider
BACKSLI'DER, n. An apostate; one who falls from the faith and practice of religion. Prov.xiv.
2. One who neglects his vows of obedience and falls into sin.
backsliding
BACKSLI'DING, n. The act of apostatizing from faith or practice; a falling insensibly from religion into sin or idolatry. Jer. v.6.