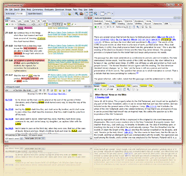 For a complete Scripture study system, try SwordSearcher Bible Software, which includes the unabridged version of this dictionary. Once you experience the swiftness and ease-of-use SwordSearcher gives you right on your own computer, combined with the most powerful search features available, you will never want to use the web to do online study again. Includes tens of thousands of topical, encyclopedic, and commentary entries all linked to verses, fully searchable by topic or verse reference.
Also try Daily Bible and Prayer to design your own Bible reading programs and track your prayer list.
KJV Dictionary Definition: ass
ass
'ASS, n. L. asinus; Gr. an ear.
1. A quadruped of the equine genus. This animal has long slouching ears, a short mane, and a tail covered with long hairs at the end. He is usually of an ash color, with a black bar across the shoulders. The tame or domestic ass is patient to stupidity, and carries a heavy burden. He is slow, but very sure footed, and for this reason very useful on rough steep hills.
2. A dull, heavy, stupid fellow; a dolt.