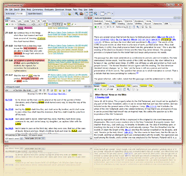 For a complete Scripture study system, try SwordSearcher Bible Software, which includes the unabridged version of this dictionary. Once you experience the swiftness and ease-of-use SwordSearcher gives you right on your own computer, combined with the most powerful search features available, you will never want to use the web to do online study again. Includes tens of thousands of topical, encyclopedic, and commentary entries all linked to verses, fully searchable by topic or verse reference.
Also try Daily Bible and Prayer to design your own Bible reading programs and track your prayer list.
KJV Dictionary Definition: angel
angel
AN'GEL, n. Usually pronounced angel, but most anomalously. L. angelus; Gr. a messenger, to tell or announce.
1. Literally, a messenger; one employed to communicate news or information from one person to another at a distance. But appropriately,
2. A spirit, or a spiritual intelligent being employed by God to communicate his will to man. Hence angels are ministers of God, and ministring spirits. Heb. 1.
3. In a bad sense, an evil spirit; as, the angel of the bottomless pit. Math. 25. 1Cor 6. Rev. 9.
4. Christ, the mediator and head of the church. Rev. 10.
5. A minister of the gospel, who is an embassador of God. Rev. 2 and 3.
6. Any being whom God employs to execute his judgments. Rev. 16.
7. In the style of love, a very beautiful person.
angelical
ANGEL'ICAL, a. L. angelicus. Resembling angels; belonging to angels, or partaking of their nature; suiting the nature and dignity of angels.
angelically
ANGEL'ICALLY, adv. Like an angel.