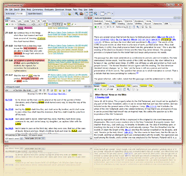 For a complete Scripture study system, try SwordSearcher Bible Software, which includes the unabridged version of this dictionary. Once you experience the swiftness and ease-of-use SwordSearcher gives you right on your own computer, combined with the most powerful search features available, you will never want to use the web to do online study again. Includes tens of thousands of topical, encyclopedic, and commentary entries all linked to verses, fully searchable by topic or verse reference.
Also try Daily Bible and Prayer to design your own Bible reading programs and track your prayer list.
KJV Dictionary Definition: afflict
afflict
AFFLICT', v.t. L. affligo, afflicto, of ad and figo, to strike; eng. flog; Gr. to strike;, L. plaga, a stroke. Hence, eng. flail, g being suppressed; L. flagellum. See Flog.
1. To give to the body or mind pain which is continued or of some permanence; to grieve, or distress; as, one is afflicted with the gout, or with melancholy, or with losses and misfortunes.
They affect thy heritage, O Lord. Ps. 95.
2. To trouble; to harass; to distress.
afflicted
AFFLICT'ED, pp. Affected with continued or often repeated pain, either of body or mind; suffering grief or distress, of any kind; followed by at, by or with; as, afflicted at the loss of a child, by the rheumatism, or with losses.
afflicter
AFFLICT'ER, n. One who afflicts, or causes pain of body or of mind.
afflicting
AFFLICT'ING, ppr. Causing continued or durable pain of body or mind; grieving; distressing.
AFFLICT'ING, a. Grievous; distressing; as, an afflicting event.
affliction
AFFLIC'TION, n.
1. The state of being afflicted; a state of pain, distress, or grief.
Some virtues are seen only in affliction.
2. The cause of continued pain of body or mind, as sickness, losses, calamity, adversity, persecution.
Many are the afflictions of the righteous. Ps. 34.
afflictive
AFFLICT'IVE, a. Giving pain; causing continued or repeated pain or grief; painful; distressing.
afflictively
AFFLICT'IVELY, adv. In a manner to give pain or grief.