Psalms chapter 98 King James Version
1
A Psalm.
O sing unto the LORD a new song; for he hath done marvellous things: his right hand, and his holy arm, hath gotten him the victory.
2 The LORD hath made known his salvation: his righteousness hath he openly shewed in the sight of the heathen.
3 He hath remembered his mercy and his truth toward the house of Israel: all the ends of the earth have seen the salvation of our God.
4 Make a joyful noise unto the LORD, all the earth: make a loud noise, and rejoice, and sing praise.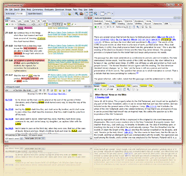 For a complete Scripture study system, try SwordSearcher Bible Software. Once you experience the swiftness and ease-of-use SwordSearcher gives you right on your own computer, combined with the most powerful search features available, you will never want to use the web to do online study again. Includes tens of thousands of topical, encyclopedic, dictionary, and commentary entries all linked to verses, fully searchable by topic or verse reference.
Also try Daily Bible and Prayer to design your own Bible reading programs and track your prayer list.
5 Sing unto the LORD with the harp; with the harp, and the voice of a psalm.
6 With trumpets and sound of cornet make a joyful noise before the LORD, the King.
7 Let the sea roar, and the fulness thereof; the world, and they that dwell therein.
8 Let the floods clap their hands: let the hills be joyful together
9 Before the LORD; for he cometh to judge the earth: with righteousness shall he judge the world, and the people with equity.