Psalms chapter 96 King James Version
1 O sing unto the LORD a new song: sing unto the LORD, all the earth.
2 Sing unto the LORD, bless his name; shew forth his salvation from day to day.
3 Declare his glory among the heathen, his wonders among all people.
4 For the LORD is great, and greatly to be praised: he is to be feared above all gods.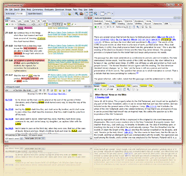 For a complete Scripture study system, try SwordSearcher Bible Software. Once you experience the swiftness and ease-of-use SwordSearcher gives you right on your own computer, combined with the most powerful search features available, you will never want to use the web to do online study again. Includes tens of thousands of topical, encyclopedic, dictionary, and commentary entries all linked to verses, fully searchable by topic or verse reference.
Also try Daily Bible and Prayer to design your own Bible reading programs and track your prayer list.
5 For all the gods of the nations are idols: but the LORD made the heavens.
6 Honour and majesty are before him: strength and beauty are in his sanctuary.
7 Give unto the LORD, O ye kindreds of the people, give unto the LORD glory and strength.
8 Give unto the LORD the glory due unto his name: bring an offering, and come into his courts.
9 O worship the LORD in the beauty of holiness: fear before him, all the earth.
10 Say among the heathen that the LORD reigneth: the world also shall be established that it shall not be moved: he shall judge the people righteously.
11 Let the heavens rejoice, and let the earth be glad; let the sea roar, and the fulness thereof.
12 Let the field be joyful, and all that is therein: then shall all the trees of the wood rejoice
13 Before the LORD: for he cometh, for he cometh to judge the earth: he shall judge the world with righteousness, and the people with his truth.