Psalms chapter 95 King James Version
1 O come, let us sing unto the LORD: let us make a joyful noise to the rock of our salvation.
2 Let us come before his presence with thanksgiving, and make a joyful noise unto him with psalms.
3 For the LORD is a great God, and a great King above all gods.
4 In his hand are the deep places of the earth: the strength of the hills is his also.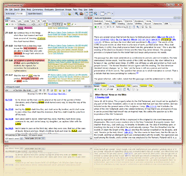 For a complete Scripture study system, try SwordSearcher Bible Software. Once you experience the swiftness and ease-of-use SwordSearcher gives you right on your own computer, combined with the most powerful search features available, you will never want to use the web to do online study again. Includes tens of thousands of topical, encyclopedic, dictionary, and commentary entries all linked to verses, fully searchable by topic or verse reference.
Also try Daily Bible and Prayer to design your own Bible reading programs and track your prayer list.
5 The sea is his, and he made it: and his hands formed the dry land.
6 O come, let us worship and bow down: let us kneel before the LORD our maker.
7 For he is our God; and we are the people of his pasture, and the sheep of his hand. To day if ye will hear his voice,
8 Harden not your heart, as in the provocation, and as in the day of temptation in the wilderness:
9 When your fathers tempted me, proved me, and saw my work.
10 Forty years long was I grieved with this generation, and said, It is a people that do err in their heart, and they have not known my ways:
11 Unto whom I sware in my wrath that they should not enter into my rest.