Psalms chapter 87 King James Version
1 A Psalm or Song for the sons of Korah. His foundation is in the holy mountains.
2 The LORD loveth the gates of Zion more than all the dwellings of Jacob.
3 Glorious things are spoken of thee, O city of God. Selah.
4 I will make mention of Rahab and Babylon to them that know me: behold Philistia, and Tyre, with Ethiopia; this man was born there.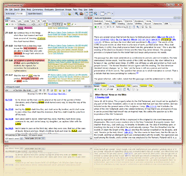 For a complete Scripture study system, try SwordSearcher Bible Software. Once you experience the swiftness and ease-of-use SwordSearcher gives you right on your own computer, combined with the most powerful search features available, you will never want to use the web to do online study again. Includes tens of thousands of topical, encyclopedic, dictionary, and commentary entries all linked to verses, fully searchable by topic or verse reference.
Also try Daily Bible and Prayer to design your own Bible reading programs and track your prayer list.
5 And of Zion it shall be said, This and that man was born in her: and the highest himself shall establish her.
6 The LORD shall count, when he writeth up the people, that this man was born there. Selah.
7 As well the singers as the players on instruments shall be there: all my springs are in thee.