Psalms chapter 82 King James Version
1
A Psalm of Asaph.
God standeth in the congregation of the mighty; he judgeth among the gods.
2 How long will ye judge unjustly, and accept the persons of the wicked? Selah.
3 Defend the poor and fatherless: do justice to the afflicted and needy.
4 Deliver the poor and needy: rid them out of the hand of the wicked.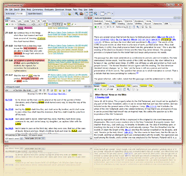 For a complete Scripture study system, try SwordSearcher Bible Software. Once you experience the swiftness and ease-of-use SwordSearcher gives you right on your own computer, combined with the most powerful search features available, you will never want to use the web to do online study again. Includes tens of thousands of topical, encyclopedic, dictionary, and commentary entries all linked to verses, fully searchable by topic or verse reference.
Also try Daily Bible and Prayer to design your own Bible reading programs and track your prayer list.
5 They know not, neither will they understand; they walk on in darkness: all the foundations of the earth are out of course.
6 I have said, Ye are gods; and all of you are children of the most High.
7 But ye shall die like men, and fall like one of the princes.
8 Arise, O God, judge the earth: for thou shalt inherit all nations.